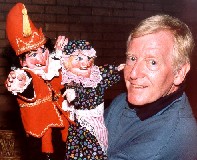 In addition to his normal workshops Ken has worked with a management team for British Airways who under his supervision made puppets, built a theatre and wrote the script to present a "Punch and Judy" performance for the children at Great Ormond Street Hospital.
Marks and Spencer have used Ken's puppets to put across a message at Corporate Meetings.
Ken's Punch and Judy has been used as a commercial for backing Fat Boy Slim's Big Brighton Beach Boutique Event.
Ken visited Hong Kong with Punch and Judy and held workshops over the Easter Weekend.
Ken Dalston took up puppetry as a hobby at the age of 8 and turned professional when he formed the business in 1990 through the government "Enterprise" scheme when he was made redundant from commerce.
Ken Dalston's Puppets have appeared on both BBC and SKY TV and have been featured on BBC and Commercial radio. They have been seen all over the UK in Parks, Shopping Centres and at Public Events, Leisure Centres, Birthday and Christmas Parties, Carnivals, Fetes, Promotions, Holiday Play Schemes, Schools, Play Groups and Nurseries.